Whether it's for a wedding during the day or when it's time to do a look for work, everyday makeup raises many questions for women. That's why Colors Nation has created a complete, step-by-step guide to everyday makeup.
What shades to use?
How do make makeup last all day?
Can I bet on the glow?
If you have any of these questions, don't worry! We have gathered all the everyday makeup tips, including:
the most suitable products;
necessary care;
best tones;
how to make makeup last longer
Are you interested? Keep reading and don't miss our makeup tips for the day!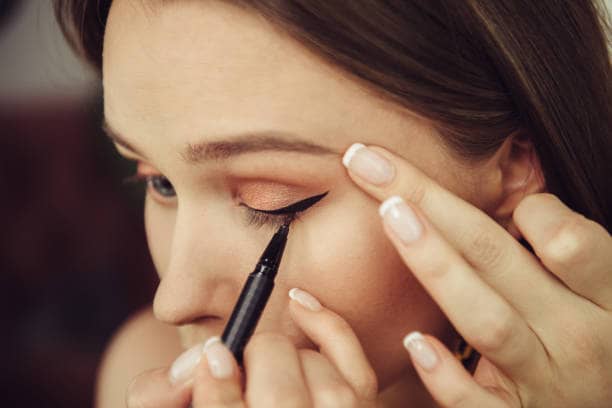 Everyday makeup manual step by step
It's not always that we're inspired or have time to follow super elaborate everyday makeup tips, is it? With the increase in home office work and less and less frequent departures, we even stopped using sunscreen.
A secret here, just between us, it's super cool to let the skin rest and enjoy the moments when we don't need to be so produced. But make-up, can lift any mood and can even help with mood.
So, without further ado, let's go straight to the step-by-step of a supernatural everyday makeup, but with a point of shine.
Table of Contents
1 – Take care of the skin
One of the best tips on how to apply makeup for everyday life is to invest in your skin. After all, the main touch of day makeup is to give a lighter look, And, as we already know, skin care is essential to achieve this effect, without loading the high coverage foundation.
Oh! But can't you use a high-coverage foundation in everyday makeup? He can! You can use the products you are used to, but a well-groomed skin will ensure that even in this case the foundation finish is light and, of course, lasts longer!
So, wash your skin very well and do your normal skincare routine, don't forget the protector!
2 – Coverage
The second step is to invest in a BB cream, a light coverage foundation, or a more luminous finish. The matte effect can carry a little bit of everyday makeup. Ah, in case your choice is a foundation, don't dispense with the primer, ok? This way the makeup resists better throughout the day.
To lighten darker spots and better correct some imperfections, you can choose the corrector you prefer. Watch out for the color! A difference in tone can even go unnoticed at night, but during the day everything is more evident as if we had a ring light or the flash on at all times.
Then just finish with the powder to help the makeup last longer and also seal the foundation and concealer.
Product suggestions:
BB Cream Givenchy Hydra Sparkling Nude ;
L'Oréal Paris Miraculous Cream 5 in 1 ;
Shiseido Synchro Skin Gel Foundation.
3 – Eyes
The eyes in everyday makeup can have a point of light, we will show some examples later, or be more discreet. In the makeup above, we decided to bet on more neutral tones, which go very well with daytime makeup. It can be played in earthy, rosé, and even more orange tones. The idea is to deposit a little pigment and blend very well!
Oh! In this everyday makeup photo that we selected on the Make You profile on Instagram, we have a really cool tip. Instead of betting on the kitten with black eyeliner, well-marked, you can make two substitutions:
Use brown pencil or eyeliner or
Bet on the smoky eyeliner. Tip: It's easier to do with a softer pencil.
4 – Blush/Contour
For everyday makeup, it is advisable not to use an extremely marked contour. For this, choose very cold tones, deposit little pigment and choose a shade closer to your color.
The blush is now released! It gives a super healthy look and even looks like you took a dose of vitamin D in the morning. The rosiest ones with small glitter particles look beautiful on this type of make-up day!
5 – Illuminator
In the step-by-step makeup for the day we selected, the highlight was done very gently starting in the middle of the cheek towards the temples. Avoid very golden highlighters, if you have fair skin, and those with a pearly or silver background, if your skin is dark.
Oh! And the big glitter particles leave it for the night makeup, ok? Not to regret.
6 – Lipstick
In this everyday makeup guide, we decided to bet on the rosier matte lipstick. This way we maintain the delicacy of the make, with the bonus of increasing durability.
7 – Eyebrow
Finally, we come to the eyebrow. Here the rule is to follow your natural design of yours and only fill in the gaps. Oh! And a super trend is to comb the hair all up, giving a more stripped look. Use a clear mascara or brow gel to keep everything perfectly untidy.
Well, this is the most classic everyday makeup possible. Shall we make some adaptations for different situations?
Everyday makeup manual step by step for work
In this first moment, our focus will be the makeup for a working day.
Before anything else, it is necessary that you evaluate the environment and the area in which you work.
In more relaxed environments, such as advertising agencies, it is possible to be more daring in the colors of lipstick, pencil, or mascara, releasing your creativity.
However, more formal environments, such as offices, ask for more sobriety in the choice of colors, and it is better to invest in natural make-up that emphasizes its beauty without exaggerating in colors and brightness.
In order not to make mistakes, let's talk about each aspect of how to do makeup for the day, below. Follow up!
1. Skin
To make your workday makeup last all day without smudging or looking too artificial, it's best to invest in foundations of:
light or medium coverage;
liquids or minerals;
so that they cover the main imperfections without weighing down the look.
If you feel the need, complement the coverage of blemishes, dark circles, and pimples with a liquid concealer.
An essential product is the face primer, which must come first to prepare the skin and ensure a longer duration for the makeup.
Finish with a translucent powder, and don't forget to always carry a compact version in your bag for touch-ups throughout the day.
Read more at What can't be missing in a women's toiletry bag
2. Eyes
In the eyes, forget about very strong smokey eyes or shine. Unless the environment allows it.
At work, in makeup for the day, the step by step is to bet on earth tones and a discreet smoky, as we already gave the tip in the previous step by step, just to give more depth to the look. Finish the look with:
Mascara to eyelashes;
Pencil your skin tone on the inside of your lower eyelid;
A pearl pencil or two shades lighter than your skin in the inner corner of the eye and below the eyebrow, in order to light up your eyes.
3. Mouth
The lipstick chosen for more formal environments should be between nude and mouth tones and can vary for mauve as well.
Of course, if you feel comfortable, you can always choose the shade that suits you best, daring in coral, pink, or red.
4. Blush
To finish off the makeup tips for the day at work, invest in rosy blushes, which will give you a natural health flush.
A good option is liquid blushes, which, in addition to being durable, make it look like the blush comes from within the skin.
Makeup for the day step by step: make-up for school or college
At school, neutral makeup for the day may be more appropriate, especially if the rules are strict about the uniform.
In college and in more liberal educational institutions, you are free to dare in the types of makeup for the day, investing, for example, in different colors, if you wish.
However, if you still want more discreet everyday makeup, investing in a more comfortable look, you can opt for a BB cream. After all, it is a product that accumulates the functions of foundation and primer and will leave your skin looking more beautiful without weighing it down.
In the eyes, just one mascara is enough, even more, if its stretching power is enhanced with an eyelash curler before application.
On the lips, opt for a lip tint, gloss, or soft lip color, which will make your lips more beautiful without you having to worry too much about touch-ups or reapplication. This leaves you freer to focus on your studies.
Take advantage of lip tint, if you choose it, to add a touch of color to your cheeks, or use a very soft pink blush to give that flushed look of health.
Makeup for the day step by step: Outdoor walks
Are you going for a walk in the city, going to a barbecue, or going for a walk in a park and don't know how to do a more natural day-to-day makeup?
Calm!
In addition to sunscreen, very light makeup can be ideal to make you look beautiful and suitable for the occasion.
Makeup tips for day-to-day outings are: Invest in colorful touches in eyeliner and mascara. Tip: Maybelline Kit The Colossal Volum'Express Super Film Double
Of course, the option is a little more daring, so if you prefer more natural eyes, a simple brown pencil smudge under the lower eyelids will make your look more marked.
Complement with black mascara and a flesh-colored pencil on the waterline.
Don't be afraid to go bold with lip colors, but avoid dark tones like black and purple.
Neutral everyday makeup is a classic. They match best with lipstick shades:
nudes;
red;
coral;
mallow;
even a charming vibrant pink.
Makeup for the day step by step: the make-up party
An everyday makeup guide could not leave out the options for parties with sunlight!
There are several types of makeup for the day and finding the right option for parties is always a challenge, isn't it?
In addition to the difficulty of creating a look that balances the chic of the occasion with the informality of the daytime, it is still necessary to take extra care with the products, which need to have sun protection and good durability in the heat.
So, here are some steps on how to do natural makeup for the day:
start with a primer, it once again appears as an indispensable item at the beginning of the makeup;
apply a medium coverage liquid or mineral foundation;
Apply liquid concealer to places where the foundation doesn't cover imperfections.
Ready skin, worth investing in:
sparkle in the eyes;
illuminator strategically applied in the inner corners, on the temples, and on the front line of the nose, remembering to blend well to leave the production with an elegant and natural look;
be as bold as you like with lipstick colors, but it might still be best to stay away from dark purples and black, which go best with the night. Red or pink lipstick can be the ideal touch of color for your look.
Finish with a good setting spray, which will leave your makeup flawless for longer, making it more resistant to heat and sweat. A good trick is to combine makeup and hairstyle for a party.
Makeup tips for the day: recommended products
Now that you know how to do makeup for the day, according to various occasions, how about learning which products to invest in so your daytime production doesn't flop? Continue reading. We separate 4 special tips.
The matte finish can be interesting precisely because it holds the oiliness that accompanies daytime occasions better.
On the lips, matte lipsticks also tend to have a better hold, even more so if they are in liquid versions.
You don't even have to talk, do you?
Going out during the day, regardless of makeup, calls for an adequate sun protection factor for your skin type.
This is how you avoid stains, heat stroke, premature aging, and the dreaded skin cancer.
Also, read our " Winter Skin Care ".
Suggestion: Neutrogena Ultra Sheer Dry-Touch Water Resistant and Non-Greasy Sunscreen SPF 70.
Many products already come with long-lasting functionality and sweat resistance. Look for them on the shelf and always remember to look for reviews before you buy.
So you have more information to know if what is promised really matches reality.
Mascara, eyeliner, and pencil should be waterproof so they don't melt in the heat and last all day without smudging.
To remove them without harming your lashes, opt for Neutrogena Makeup Remover and a rinse with warm water.
Suggestions:
Covergirl Lash Blast Volume Waterproof Mascara
How to take care of skin before and after makeup
Before makeup for everyday
Sweat and open pores can make daytime production a disaster. Maintaining a skincare routine before makeup already solves most problems, ensuring a longer-lasting and well-finished production.
Here's a simple step-by-step guide to follow before production and achieve a smooth makeup for the day:
wash your face well with soap suitable for your skin type. Take the opportunity to use cold water, causing your pores to contract and the oiliness to decrease;
complete the cleaning with a tonic, but this step is optional;
sunscreen time! Even using products that contain protection factors, you can't do without this product. Prefer oil-free formulas, so as not to weigh down the look;
spray your face with thermal water or saline solution, moisturizing your skin without adding more cream to it;
face protected and hydrated? Now it's time to apply the primer, which will disguise pores and expression lines, in addition to leaving your skin prepared to better retain makeup.
After spending the day in the makeup
If you think skin care ends after makeup, you're wrong!
The after-party or the end of a workday is what will define the health of your skin in the next few days.
Sleeping with make-up on, for example, is something that cannot happen under any circumstances.
Even if you are tired, take some time to remove your makeup first.
You can use makeup remover wipes if you want to save time, remembering to opt for products that also cleanse waterproof formulas.
Once the makeup has been removed from the face, it's time to wash it off with your facial soap and clean the eyes using anti-tear baby shampoo. If you want, you can finish the cleanse with toner.
Clean skin, moisturizer time. Even oily skin needs hydration, and if that's your case, a good choice is gel-cream formulas, which moisturize without clogging pores or increasing skin oiliness.
Don't forget to moisturize the eye area and make the skin more beautiful, thus avoiding dark circles and expression wrinkles that can appear over time. But look for specific products for that region.
Skin care tips for everyday makeup wearers
If you usually do your everyday makeup, you need to take some extra care so that your skin's health is not compromised. After all, some products can make oiliness worse and even worsen skin problems.
Learn, then, how to take care of your face in the tips that we will pass next. Follow up!
Have a care routine
Following a care routine that involves washing your face, moisturizing it in the morning, and removing your makeup, in addition to cleaning and moisturizing your skin at night, is essential. Care must be done with products suitable for your skin type, including:
sunblock;
makeup remover;
face soap;
moisturizer;
moisturizer for the eye area;
tonic
Use face masks
Today, there are several mask options on the market: gold, caviar, collagen, etc. The important thing is to choose one that is moisturizing and, if your skin is oily, one that also improves this condition.
Separating a day a week for this extra care will make a total difference in the appearance of your skin and its health, as well as being a great way to practice self-love.
Clays, purchased from health food stores, are a good option. White is suitable for all skin types, illuminating and hydrating. Green is more suitable for oily skin, acting in an anti-inflammatory way and reducing the oiliness of the region.
Avoid wearing makeup at least one day a week
For those who wear makeup to work or college, it is good practice to set aside at least one day for the skin to rest. Choose the whole weekend, if possible, and combine the beneficial effects of that day with skin care, such as the mask that we already mentioned in the topic above.
Exfoliate your skin weekly
Exfoliation helps with cell renewal, ridding your skin of dead cells, and leaving your skin looking smoother and brighter. In addition, it is great for removing impurities, being ideal for those who wear makeup every day.
Invest in quality products
Finally, if you wear makeup every day, don't be tempted to buy products of dubious origin. As you will be applying them every day on your face, they need to be of good quality to prevent pimples, skin problems, and other damage.
Make sure the formula is non-comedogenic, that is if it does not clog pores when used. That way, you prevent the appearance of blackheads and pimples with the daily use of makeup.
Everyday makeup Manual step by step: how to always get it right?
You've already seen the everyday makeup manual step-by-step makeup for everyday life, you've met the main skin care for before and after using make-up products, so now you're ready to get to know a wildcard look for everyday life, which can be used in any situation mentioned above.
Follow up!
1. Cleaning and protection
We've talked a lot here, but it's worth emphasizing that before starting makeup you need to:
wash your face well with soap suitable for your skin type;
apply sunscreen with the protection factor suitable for your tone.
These two steps cannot be missed in the everyday makeup manual if you want long-lasting makeup and a healthy complexion.
2. Skin
If you don't have blemishes and pimples that are too obvious, a BB cream might be enough, or even a primer that already has some color.
The important thing is to create light makeup for the day, which keeps the look natural.
3. Eyes
In the eyes, if the look is for the day-to-day, a brown eyeshadow marking the crease is enough.
If you want a luminous look, you can use the eyeshadow trick two shades lighter than your skin tone applied to the inner corner of your eye, but without shimmer.
4. Eyebrow
Don't be afraid to accentuate your brows — a grayish-brown pencil or matching eyeshadow applied with an angled brush, not only helps to hide flaws but also enhances the shape.
Apply the eyeshadow two shades lighter just below the curve of the brow to further highlight your look.
5. Lipstick
Lipstick can lift your look, and for daytime, coral, red and pink add a pop of color.
If you're more discreet, nude, mauve, or lip color are great options.
What are the best colors for everyday makeup manual?
A day-to-day makeup tip that cannot be forgotten is that production for daytime parties calls for different shades from those used in evening makeup. Therefore, it demands greater care, even more, when combining hair and make-up.
Want to know how not to make a mistake? Check out the most recommended shades:
champagne
The champagne eyeshadow is a real joker, as it gives a discreet touch of color, at the same time, it brightens the look and leaves the makeup with a more chic look.
It's a great color to wear to a daytime party and as a base for classic cat eyeliner.
Golden
Gold is a great everyday makeup tip for dark skin, giving it a bright and festive look.
Even if your skin tone is lighter, wear it sparingly at parties, especially if golden eyeshadow is paired with red lipstick.
Earth tones
You can't go wrong with earth tones!
They are sophisticated and mark the beauty in a discreet and very chic way.
A smokey blend combining brownish tones and the lash line marked with black eyeliner is a true classic.
Coral
Coral lipstick has returned to the catwalks and gives a colorful and fun tone to daytime production.
It looks very good on brunette and black women, especially, and it goes well with the smoky earth tones that we talked about in the previous topic.
Red
You can play without fear: red lipstick for daytime parties looks beautiful! If you want a more chic look, opt for a golden eyeshadow, but if you want something casual, a cat eyeliner is a good option.
Also read: " How to do makeup with red lipstick: 6 steps"
Mallow
Were you excited about the color when making the eyes?
No problem!
Balance the look with a mauve lipstick, very close to your mouth tone.
Nude
The nude, if used well, leaves the production very sophisticated with light makeup for the day.
You just need to get your nude tone right according to your skin and complete your look with a very powerful look.
Since you're investing in nothing, focus on the shade and the perfect finish on the skin.
What can and cannot be used in everyday makeup manual?
Nowadays, the rules of clothing and makeup for everyday life are much freer and you can wear whatever you want. However, we can still give you some everyday makeup manual tips for everyday life so you can better suit the occasion and not draw attention to having over makeup. Check out!
False eyelashes
If the occasion is a party, false eyelashes are more than allowed!
Choose voluminous models to highlight your look or those that come in "tufts", which are easier to apply.
For more everyday occasions, such as college and work, the false ones can be a little over, in addition to increasing eyelash breakage if used every day.
Red lipstick
Red lipstick during the day is allowed!
On a day-to-day basis, if your work environment is more formal or if you are more shy, start by using the more earthy and burnt tones, which give a more neutral makeup effect for the day.
As for the parties, not only is it allowed, but a beautiful production is a beautiful red lipstick with gold or champagne eyeshadow, or even a cat eyeliner, giving a retro tone to the production.
Shine
In the day-to-day look, the shine can be excessive, but for parties, you can opt for well-lit skin and even a touch of shine in the shadow.
Pink, champagne, and gold tones go well for daytime occasions.
The important thing is to feel good about the chosen production, after all, if you're not feeling beautiful, it doesn't even make sense to produce yourself, right?
Ready!
With this complete guide by Colors Nation, you are now more prepared to do daytime makeup in different situations.