Did you know that discovering your skin undertone can help you choose the right shade of foundation, the ideal color of dye for your hair, clothes, accessories, and makeup that suit you best? In this article by Colors Nation, we will clear some doubts on the subject. Check out!
Table of Contents
What is the skin undertone?
Undertone is the skin temperature defined by the amount of carotene (warm) and hemoglobin (cold)". It is a characteristic that we have on the skin when reflected in the light".
When you remove the cuticle, the skin that comes out is transparent and it is this particularity of melanin that makes the light reading of skin in the face of light be colder or warmer.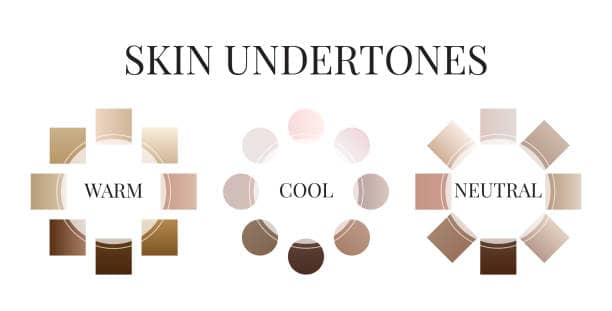 What are Skin Undertones?
There are several types of skin undertones, but 3 of them are the most common: warm, cold, and neutral". To understand a little more about it, she checks the characteristics of each one:
Warm undertone: Warmer skin is one that has a higher amount of carotene (one of the pigments responsible for skin color). Thus, people with this temperature combine shades of yellow, red, orange, and gold.
Cool undertone: A cooler skin is one that has more hemoglobin than carotene. It looks more harmonious with pink, purple, and bluish colors. Therefore, those who have cold skin combine paints with more gray tones, as well as silver accessories;
Neutral undertone: It is the junction of warm and cold, resulting in brown, beige, gray, and green tones. Contrary to what it seems, the neutral tone is not the middle ground between warm and cold, as it can be neutral-cold or neutral-warm. After all, the skin will always have a little more carotene or hemoglobin;
Colors Nation also guides that "at a neutral temperature, both cold tones with the influence of warm tones and warm tones with the influence of cold tones can help to enhance your skin undertone". And also we add that "for hair, natural tones may work best; As for the accessories, the neutral skin matches both golden and silver".
As for black skin tones, "the cool undertone, which is usually pinker, is not common. However, it can still happen that this skin has a more bluish undertone. So it's important to test to be sure. On the other hand, oriental women usually have a yellowish undertone, while indigenous women have a reddish undertone".
Also Read: EveryDay Makeup Manual Step By Step
If you are interested in the subject and want to know if you can identify your skin undertone at home, read the following topic-
Is it possible to identify the skin undertone at home?
Identifying your skin's undertone is essential to choosing the colors that most value your beauty. This also goes for hair dyes, makeup, accessories, and even clothes.
Thus, the only assertive way to discover your skin undertone is by consulting a qualified professional. An image consultant or makeup artist specializing in colorimetry will perform a test with specific fabrics, developed especially for this analysis.
The personal coloring test is an analysis performed through the light that hits the fabric and reflects on the face. It's pure physics. If the fabric has an undertone within your skin's undertone, it will reflect illuminating your face, smoothing out imperfections and fine lines. Otherwise, it will highlight these imperfections making your face look more tired and aged."
Although there are some methods you can do at home, experts point out that sometimes it can go wrong. We also explain that "when carrying out this analysis, it is necessary to consider 3 dimensions of the skin: depth (darker or lighter colors), intensity (more vibrant or softer colors), and temperature (hot or cold)". Therefore, "the person has to have knowledge about these dimensions to be able to discover the undertone, remembering that the fiber that the fabric is made of also influences the test result, as well as the ambient light".
We also warn against internet methods and tips such as looking at the color of the veins, analyzing the tanning, and others. "Looking at the color of the veins is one of the biggest myths about undertone, besides not being assertive. That's because there are people with various shades of veins." The tanning test, which consists of analyzing whether your skin turns golden or red after exposure to the sun, doesn't work either. After all, bronze interferes with the tone (light, medium, and dark) and not with the undertone (warm or cold) of the skin", concludes the consultant.
We also do not indicate any homemade method. For her, "to find out what her undertone is, it's best to experiment. There are colors that will rejuvenate and others that will mark the lines of expression. There is no test that can be sure, except the personal coloring. However, looking at what looks best on the skin, such as a more yellowish or pinker foundation, despite not being conclusive, is already an indication of what may work better".
Discovering your skin undertone can be key to making some choices and combinations.