Today, Colors Nation going to talk about a part of the body that usually suffers a lot from changes in weather and temperature: the skin!
Although in Brazil it is also possible to experience some low temperatures during the winter months, nothing compares to the negative temperatures of most wonderful winter destinations in other countries, right? And it is exactly in these extremely cold environments that the skin asks for even more attention!
Table of Contents
UNDERSTAND WHY THE WINTER SKIN CARE IS MORE ESSENTIAL
Your skin, especially your face, which is more exposed, needs some special care so that you can keep it healthy and beautiful during the winter, especially when traveling to cold destinations. After all, in addition to taking care of your health, you have to look good in the photo too!
Low temperatures and low humidity, in addition to hot baths, tend to dehydrate and leave the skin very dry. Both the skin of the body and the face can dry out in winter, and the most affected are the hands, feet, knees, elbows, and lips.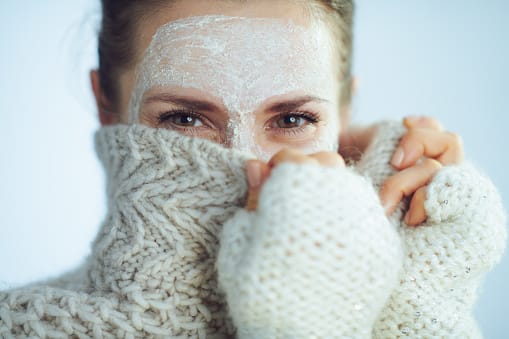 Cold, dry weather can still leave it looking whitish, which means protein denaturation has occurred. What happens is that, during low temperatures, the fat and sweat glands have their activities inhibited. For this reason, the lipid mantle, which holds its moisture, decreases and becomes drier.
According to dermatologists, winter oil care is just as important as dry skincare. That's because dry skin, when dry, loses its shine and becomes rough, which can cause more serious problems, such as atopic dermatitis and eczema.
Already the oily type, if careless can develop seborrheic dermatitis, which is the peeling of the regions close to the nose, eyebrows, behind the ears, and scalp.
Now you must be thinking that winter has a lot of negative points, analyzing everything we just mentioned, but know that the health benefits of winter are many! To know them, check out the post on the 6 health benefits of winter.
ESSENTIAL SKIN CARE TIPS ON COLD DAYS
Now we're going to prove to you that it's not so difficult to take care of your skin when the thermometer starts to show lower temperatures. With the following tips, you will maintain hydration, ensuring a beautiful and healthy appearance. Ready to have baby skin? So let's go!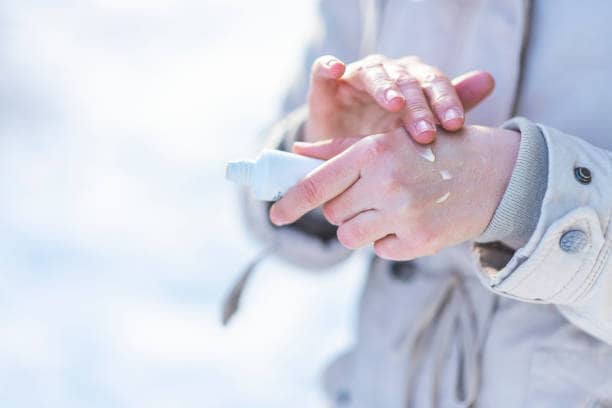 1. BE CAREFUL WHEN BATHING
We know how tempting a hot, long shower after a long day at work can be! But try to avoid this as much as possible. Try to take warm baths, at a pleasant temperature and only for the time necessary to sanitize your body. In addition to avoiding skin drying, you contribute to nature by spending less and can also save a little money at the end of the month.
2. WASH YOUR FACE A FEW TIMES A DAY
In the same line of thought as in the previous topic, avoid washing your face too many times a day and, when you do, don't use hot water. The recommended thing is to wash it no more than twice a day, as excessive hygiene can dry it out and cause a rebound effect, especially in cases of oily skin.
3. BODY AND LIP MOISTURIZERS
In addition to avoiding very hot and long baths, it is important to use a moisturizer on the body and face. When applying the product to the face, be careful that it is suitable for your skin type, for example, oil-free products. Another part of the body that tends to dry out in winter is the lips, which can crack on days of intense cold. So invest in a good lip balm!
4. SUNSCREEN
Sunscreen shouldn't just be used during the summer, it needs to be applied to your skin every day. Don't forget that during your trip you will have a lot of outdoor activities, which usually involve a lot of sun exposure.
5. FOOD
Food directly helps fight dehydration. The ideal diet during the cold season should be rich in antioxidants, selenium, and vitamin E, found mainly in fruits and vegetables. Maintaining water intake is also necessary, the ideal is to maintain the consumption of two liters of liquid per day. If you don't drink a lot of water, including natural juices or teas in your diet.
Correct nutrition is important to keep the body healthy during winter. That's why we've prepared a special post with essential foods for winter health.
6. ACCESSORIES TO PROTECT YOUR SKIN
The right accessories, whether female or male, in addition to protecting the outer layer of the body, are essential for people who are allergic to colds. The most affected areas, in these cases, are usually the hands, feet, nose, and ears. In this way, the importance of protecting the extremities of the body in winter is evident.
Ensuring the right protection for your extremities will also help keep your whole body warmer. This care is necessary not only to avoid allergies but also to protect the skin from drying caused by freezing temperatures.
Discover the accessories that cannot be missing in your winter wardrobe or travel bag for cold destinations:
– The most traditional and complete is the balaclava, which protects the back of the neck, neck, and practically the entire region of the head. This product is essential for trips to extremely cold destinations!
– The hat cannot be missing from this list either, as protecting the head is essential. For those who prefer to cover only their ears, ear protectors are a good option;
– The scarf is made to warm the neck and back of the neck, in addition to complementing winter looks with a lot of charm;
– Of course, protecting the skin of the hands is also necessary. Prefer gloves developed in thermal, waterproof, and windproof materials, which will offer complete protection for this sensitive part of your body.
Although the focus of this post was to guide you on essential skin care on cold days, don't forget that the skin also needs attention during the other seasons of the year. Oh, and if you want to check out more beauty tips for winter, we have a special post with great suggestions on the subject.
What about you, do you already take all the necessary care for your skin in winter? Did you like the tips in this post? Tell us in the comments!